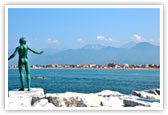 The Apuan Alps
park is one of the most important karst topography in Europe. Two hundreed cavities on 800 that have been explored are more than 100 m hight. This mountains take their name from the Apuani, a ligure tribe that lived here in ancient times. These colorfoul mountains, known worlwide for their white marble rocks, are a surprising destination for naturalists, perfect for hikes, trekking and walks.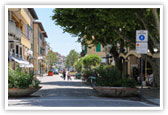 Forte dei Marmi
is one of the most important seaside resorts on the Tyrrhenian coast, it has grown up around a pier built in the XVI th century for the shipment of apuan marble. Its city center is traditional and lively, in Piazza Garibaldi you can admire the XVIII th century fort built under Leopoldo I.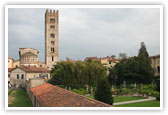 Lucca
is a real jewel of art, it is famous for its intact city walls, dating from the XV-XVII century. Even the monumental historical centre of the city has remained almost intact in its original aspect, it counts prestigious architecture like the towers, the bell towers, the beautiful Renaissance palaces and over 100 medieval churches! It was recently included in the UNESCO'S world heritage list.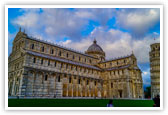 Pisa
is best known for "Piazza dei miracoli" (UNESCO'S world heritage list), the square is dominated by the Dome, the Baptistry, the monumental cemetery and its famous leaning tower. Of course you must not miss the rest of the architectural marvels that the city offers like medieval churches, Piazza dei Cavalieri, the Renaissance palaces and the charming atmosphere of the lungarni river side streets. The lungarni give a distinctive character to Pisa, especially at night when the lamplight reflect on the Arno river.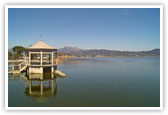 Torre del Lago Puccini
takes its name from some fortifications rising into the massaciuccoli lake. More recently "Puccini" has been added to the town's ancient name, with the aim of celebrating the famous italian composer, Giacomo Puccini, who lived there, creating is most famous operas. Every summer the festival Puccini takes place, the most famous Puccini's operas are played on an open-air theatre on the lake. Nevertheless, Torre del lago is also very known as a bathing-place for its lively nightlife marina and for the lecciona beach.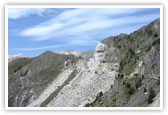 Pietrasanta, Carrara, Alta Versilia
Pietrasanta is considered Versilia historical and artistic capital city, also known as the "little Athens" thanks to the high concentration of artists and to the long tradition of expert marble workers.

Carrara. Known worldwide fot its white marble quarrys.

Seravezza and Stazzema are in the heart of the so called "alta Versilia". Seravezza is crossed by the road that leads on the Apuan Alps and arrives to Castelnuovo di Garfagnana. Stazzema is the smallest administrative center in Versilia , It also has the highest latitude.